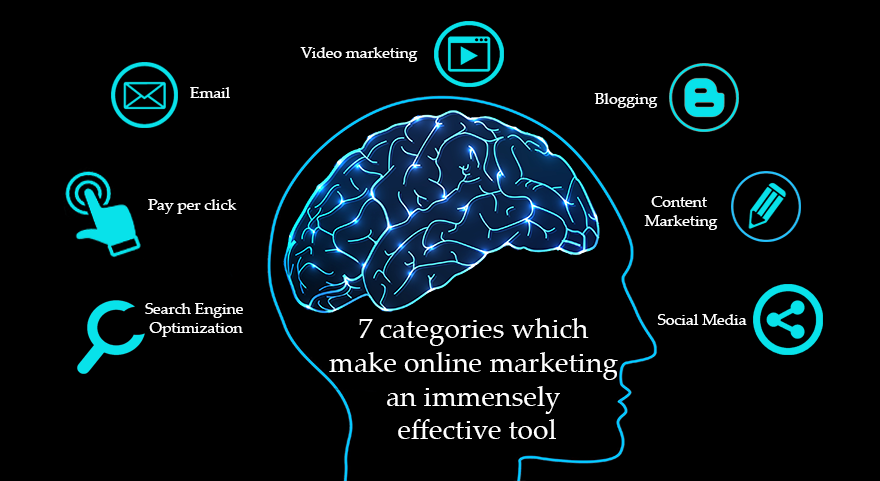 Internet has taken over the world. Not a single aspect of life and living remains untouched from it. Travelling, dining, shopping, apparels, furniture, dates, ideas, medicine, medical treatment, marketing, you name it and the internet has it. Since, almost every individual at least the potential customers is searching the web for one thing or another, the business tycoons, the web magnates and the marketing experts have made this tool, making the sparks fly with the instruments associated with them.
What is online marketing?
Online marketing is a tool which takes an idea from the business to the market, in order to advertise the product, build a brand image and showcase the services on the World Wide Web.
So, if you are planning to plunge in the profitable pool of online marketing, here is a list of gears which are bound to make every dip fruitful. However, it is a recommendation to utilize each one of these, with the thumb rules and ethics which best define them. You can master one at a time, or take each one of them comprehensively. It is completely your take! Your business! Your priorities! Your decisions!
As of present, the following disciplines will be of aid to you:-
1. Search Engine Optimization- it is basically enhancing the visibility of your website, so that when a potential customer or a client is searching for the product, the website he or she lands into is yours. The higher your page is on the ranking, the more visible it will be and hence, will receive more traffic.
2. Pay per click- It is basically a lead generation technique. This one requires some real smartness. If this works for you, well, you will be able to allure immense traffic in the least possible time. It is turning the passive buyers into active buyers.
3. Email- Considering each one of you has it enhances its usage by the marketing tycoons. In fact, it is the best format for direct communication.
4. Video marketing- the ace tool to deliver the apt message to the targeted audience. Indeed, it is effective. But, you need to ensure that not a single stone is unturned with respect to making the video trenchant.
5. Blogging- this requires immense with apt keywords, creativity, scheduling content, optimizing navigation items and all this with utmost scrutiny.
6. Content Marketing- Apt keywords, good vocabulary, great tag lines? Content marketing is this and more than this.
7. Social Media- Yeah, almost everyone utilizes this powerful, impactful and effective platform! However, not everyone benefits from it. Hence, use it well!